St. Paul and Bethlehem are churches of the great commission; called to go out into the world, proclaiming Jesus as the Christ, the Son of the living God, secure in the knowledge that Jesus is with us always.
St. Paul Lutheran Church
Irwin, Iowa
Church: 782-3344
Bethlehem Lutheran Church
Jacksonville, Iowa
Church: 799-4775
Service times:
Sunday Service: 9:00 a.m.
Sunday School: 10:00 am
MISSION STATEMENT
Service times:
Sunday Service: 11:00 a.m.
Sunday School: 10:15 am
MISSION STATEMENT



ANNUAL MEETING!!

This Sunday, February 4, Bethlehem and St. Paul will hold their Annual Meetings following worship. Our worship will be a short service with Holy Communion. Thus, St. Paul's meeting will be around 9:30 am, and Bethlehem's meeting will be around 11:30 am (followed by a pot luck supper.)

Worship Time Change


9:00 am at St. Paul
11:00 am at Bethlehem
(Beginning on Sunday, January 7)

| | |
| --- | --- |
| Ash Wednesday is February 14. That means our Lent Breakfasts begin, as well as our mid-week Lent services with our Partners from Kimballton. Our breakfasts this year are hosted by United Methodist Church with the theme of "Witnesses to the Passion". The theme for our mid-week services is "Christ is Here". (We have changed our evening worship time from 7:30 pm to 7:00 pm. Breakfasts are 7:00 am.) | |




| | |
| --- | --- |
| | |
| | We are looking at the end of February or the beginning of March for our next movie night. Let Pastor Ron know which date you would prefer. |





Prayer Concerns:


Pastor Ron Rasmussen
Parsonage: 782-3289
Email: bigras73@fmctc.com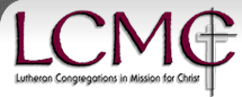 Lutheran Congregations in Mission for Christ is an association of congregations and individuals who are:
free in Christ;
accountable to one another;
rooted in the Scriptures and the Lutheran Confessions;
working together to fulfill Christ's Great Commission to go and make disciples of all nations.
The Core Values of the NALC
• Christ-Centered • Mission-Driven • Traditionally-Grounded • Congregationally-Focused